2023 Ford Bronco Price in India, Specs, Mileage & Top Speed
The Ford Bronco is one of the most popular car launched recently and it has taken the market by storm. It comes with a rugged retro-styled body and exceptional off-road performance. Here is everything you need to know like, Ford Bronco price in India, Specs, Mileage, and Top Speed. Just like its sibling the Ford Raptor it is also expected to launch in India this year.
The new model is offered in both two-door and four-door variants. Ford Bronco comes with two powertrain options, a 2.3L EcoBoost 4-cylinder and a 2.7L Turbo EcoBoost V6. The 2.3L powertrain gets an option of 7-speed manual transmission, while the 2.7 comes mated to a 10-speed automatic gearbox. It is available in 7 variants and ford offers a lot of exciting colour options to choose from.
Ford Bronco Price in India & Launch Date
As per some media reports, Ford is about to launch some new performance cars in the Indian market this year and the Bronco is going to be one of them. Ford will bring some high-end performance-oriented cars like Bronco, Mustang, and Raptor to compete with the likes Jeep Wrangler & the upcoming Toyota Supra.
Ford Bronco Launch Date in India
Ford India is gearing up to launch new models as well as update their old models in India this year. The manufacturer has also created a sperate workflow for high-performance cars. The new venture will help ford bring high-end premium cars from their international lineup. So, cars, like Ford Bronco could be launched in India soon.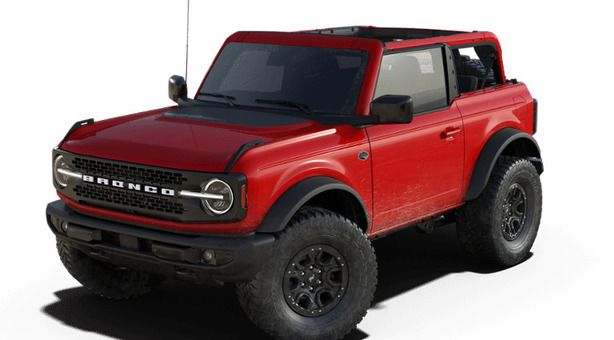 As present Ford India has not revealed any information regarding the exact launch date. But as per the reports emerging from the industry, The Ford Bronco is expected to launch in India in the second half of 2023. As Ford India has already revealed its plans for boosting its high-end cars portfolio in India, the Bronco 4×4 SUV could be a reality soon.
Ford Bronco Price in India
The price of the Ford Bronco in the International market for the base variant starts at $28,500. While the top end-trims, Wildtrak and First Edition are priced at $46,980 and $57,410 respectively. Direct conversion of the international price to INR would be Rs 21 Lakhs for the base variant and Rs 42 Lakhs for the top-end trim. However, the Ford Bronco price in India will be different from the International variant.
As it will be brought in India as a CKD or SKD unit, it will attract higher taxes. The higher taxes will make it much costlier than the US version. The Ford Bronco price in India for the base variant is expected to be around Rs 32 Lakhs. The top-end trims of the Ford Bronco will be priced in the range of Rs 58-60 Lakhs in India.
Read Similar: Cadillac Escalade Price in India, Specs, Mileage & Top Speed
Ford Bronco Specifications, Features & Overview
Note: Specs & Feature of Wildtrak 2-Door Trim Shown
| | |
| --- | --- |
| Engine | 2.7L EcoBoost Turbocharged V6 |
| Maximum Power | 310 HP |
| Peak Torque | 542 NM |
| Transmission | 10-Speed Automatic |
| Drivetrain | 4×4 |
| Mileage | 11 Kmpl |
| Top Speed | 210 km/h |
| Front Suspension | Independent HOSS System with Twin Alloy |
| Rear Suspension | Solid 5-Link Rear Axle HOSS System with Coil-Over Springs |
| Brakes | Power 4-Wheel Disc with ABS |
| Wheelbase | 2,550 mm |
| Length | 4,402 mm |
| Width | 2,190 mm |
| Height | 1,826 mm |
| Ground Clearance | 213 – 294 mm |
| Seating Capacity | 4 |
| Fuel Tank Capacity | 64 Litres |
| Maximum Towing Capacity | 1,588 kg |
| Price in India | Rs 32-60 Lakhs INR |
Key Features
LED Signature Lighting & LED Fog Lights
Active Grille Shutters
Hard Top Moulded in Colour
Removable Doors & Tops
Dual-Zone Automatic Temperature Control
Remote Start System
Ambient Footwell Lighting
Leather-Wrapped Steering Wheel with Bronco Badge
LCD Touchscreen Infotainment System with Swipe Capability
Pre Collision Assist & Automatic Emergency Braking
Lane-Keeping System
Advanced 4×4 with Automatic On-Demand Engagement
Trail Control for Off-Road
Electronic Traction Control, ABS and Stability Control
17-Inch Forged Aluminum Alloy Wheels
Trailer Sway Control
Similar News: Dodge Challenger Price in India, Specs, Mileage & Top Speed
Quick Overview
The new Ford Bronco design is highly inspired by its predecessor. The new model carries the same retro design with a wide and squared type body with modern touches. Both the two-door and four-door variants come with removable roof and you can also opt for a hardtop in place of a cloth roof. You can also remove the frameless doors and store it on the roof. The new Bronco looks rugged and a complete badass.
It is offered in two powertrain options, a 2.3L 4-cylinder engine and a 2.7L turbocharged V6 engine. The 2.7L V6 engine comes mated to a 10-speed automatic transmission, while the 2.3L 4-Cylinder engine is offered with an optional 7-speed manual transmission along with an automatic 10-speed gearbox. All the trims are based on a 4×4 drivetrain and come with power 4-wheel disc brakes with ABS.
The 2.3L EcoBoost engine of Ford Bronco makes 270 HP of max power and 420 Nm of peak torque. The superior 2.7L turbocharged V6 engine churns out 310 HP of max power and 542 Nm of peak torque. Ford has equipped the Bronco with a decent amount of driver aids, it comes with traction control, trail control, electronic stability control, and automatic emergency braking. It also gets an updated terrain management system with various modes.
The interior of the Ford Bronco also looks rugged just like the exterior. It comes fitted with all the important modern features. It gets an LCD multifunction instrument panel and the controls gauges are placed perfectly. The Bronco comes with an LCD capacitive touchscreen infotainment system with swipe capability. Its entire interior can be wiped and it comes with rubberized floors with integrated drains.
Verdict on Ford Bronco
The new Bronco has been in the headlines ever since it was revealed and for all the good reasons. It has received a great response from the buyers and the flagship First Edition is already sold out. It is offered in various trims, and Ford also gives the options of a lot of additional packages and accessories to buyers to customize it according to their taste and need.
Ford has thrown everything to make it the ultimate off-road 4×4 SUV. The Ford Bronco price in India will be one of the major factors for its success. If it priced competitively it will give one hell of a fight to the jeep wrangler. If Ford manages it to price it competitively in the Indian market, then Bronco could be their best selling high-end performance car in India.