KTM E-Speed Electric Scooty Revealed, Specs, Images & Price In India
KTM has recently revealed a concept of electric scooter known as the KTM E-Speed. The KTM E-Speed is a premium electric scooty that was showcased at the Tokyo motor show. As the world is moving towards electric vehicles, so is KTM. So, here are the complete details about the new KTM Scooty.
Earlier Bajaj & Pierer Mobility group conducted a development project for powered two-wheelers electric vehicles. In the development project, KTM and Bajaj had worked together to develop electric scooters in the range of 3 KW to 10 KW. And now KTM and Bajaj will start producing electric scooty from the year 2022.
KTM already has an electric bike named Freeride E-XC, The electric bike from KTM is already on sale in some countries and now the brand is working to expand its EV line-up with some new products that attract a wide range of buyers. So, now KTM will develop electric scooters incorporation with Bajaj and the KTM scooty named E-Speed is a part of of this collaboration.
Overview Of KTM Electric Scooty E-Speed
Specifications
Here are the specifications of the concept model, In the production-ready model, some of the features or specs could be replaced or upgraded.
Name
KTM E-Speed Scooty
Expected Price
Rs 1.4 Lakh INR
Launch Date
2022
Motor
Permanent-Magnet
Synchronous Motor
Battery
Lithium-Ion Batteries
Maximum Power
14.75 BHP
Peak Torque
36 Nm
Top Speed
80 KMPH
Range
64 KM
Cooling System
Liquid-Cooling
Brakes
220 MM Disc
Front Suspension
WP Up-Side Down
Rear Suspension
WP Mono-Shock
Wheels
Alloy Wheels
Tyres
Tubeless Tyres
ABS
2-Channel ABS
Headlamps
LED
Key Features Of KTM E-Speed Scooty
Powerful Motor
Power Modes
Stylish Design
Liquid Cooling Technology
Front & Rear Disc Brakes
ABS Brakes
Single-Sided Swingarm
Alloy Wheels
Digital Instrument Console
Smartphone Connectivity.
Related: Top 10 Best Performance-Oriented Scooters For Men & Boys
Quick Overview
As you can see, the concept model looks futuristic and quirky. It sports the famous KTM orange colour all over and it has a very sleek design. It has a single-sided swingarm that looks really good. The production-ready variant will be different and it will look more sophisticated than this. But surely it will come with an aggressive design and bold colours like the other KTM's
The new concept KTM scooty is be powered by a permanent magnet synchronous motor. It uses a liquid-cooling system and the motor produces 14.7 BHP of maximum power and 36 Nm of peak torque. With this amount of power and torque, it will be able to achieve a top speed of more than 80 KMPH.
As per the brand, the new KTM scooty will have three power modes to choose from, 3 KW, 5KW and 10 kW. We have shown the top-end model here and all the specs are of the top-end model. The new KTM E-Speed will have a range of around 64 KM, which is good considering the amount of power it produces.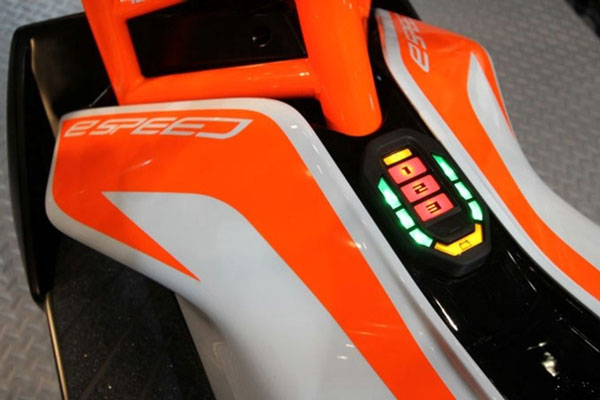 The KTM E-Speed features 220 mm disc brake at the front wheel, also the rear wheel will be equipped with disc brakes. The new KTM Scooty E-speed will also have ABS on board as a safety feature. It will feature 14-inch alloy wheels with tubeless tyres.
All the suspension hardware will be sourced from the in house brand WP. The suspension duties will be taken care of by WP forks at the front end and a WP shock linked to single-sided swingarm at the rear end. The weight of the new KTM Scooty E-Speed will be in the range of 128-135 KG.
Similar: Best Scooty For Girls & Women
Other Features
It will be fully loaded with modern features in the production-ready variant. It will come with LED headlamps with DRL's, LED turn indicators and fully digital instrument cluster. The new KTM Scooty, instrument console will also have the smartphone connectivity feature and in-built GSP navigation.
Expected Price & Launch In India
The expected price of this stylish electric scooter from KTM is around 1.4- 1.5 Lakhs INR (Ex-Showroom). This new scooter will carry a premium price tag as it loaded with very premium hardware components. Pricing this less than this range will force KTM to cut down on some premium equipment.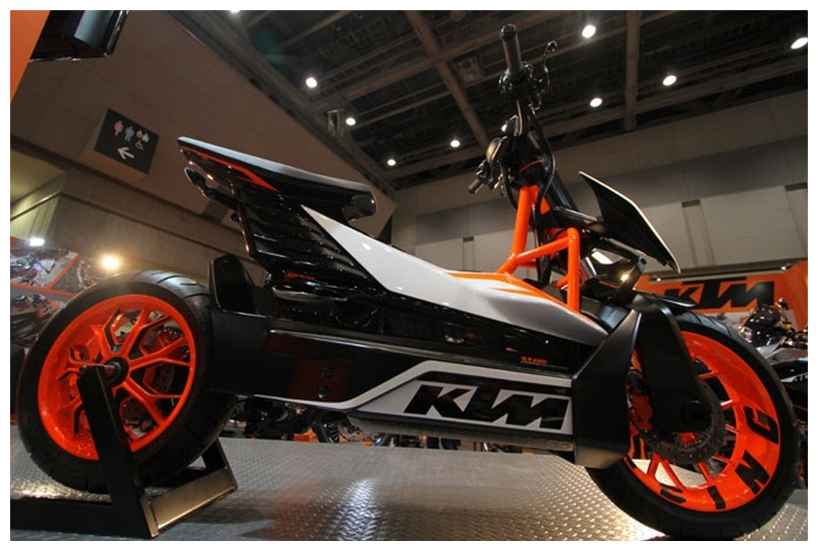 Regarding the launch of the new KTM scooty, it is still under development phase and KTM and Bajaj are working on it. The first prototype model could be shown at the auto expo in the year 2022. Just after that show, KTM might launch the production-ready variant of its all-new scooter.
The new KTM Scooty might be launched in the international market first to see how it performs. The India market is not yet matured for electric bikes and it doesn't attract a lot of buyers. The lack of charging stations and the reliability issues with the battery affects the sales of electric vehicles. So, the launch in India might get delayed.
Verdict On The KTM E-Speed
The new product from KTM looks promising and it will attract young buyers as it looks aggressive and very stylish. Anything that has a KTM badge on it means performance with great value for money proposition, lets see if KTM is able to do the same in the EV segment.
This KTM scooty looks great and the claimed power output is also good that means it will not be any other boring electric scooter. Obviously the production-spec variant will have some cut-downs, but its KTM, it will still be the most eye-catchy.
A lot of brands have recently introduced some really good electric scooters, one from Bajaj named chetak has been recently launched in India. So the new KTM E-speed will not be lonely in the Indian market. Also, the government is working to make things better, for companies to developed electric vehicles.
We hope this KTM scooty is priced aggressively like the other KTM machines, so a lot of buyers get to choose a vehicle with Zero emission for a better future for all.