KTM Duke 150 Possibility, Specs, Features, Mileage & Price In India
As we all Know KTM is a very famous brand in India and has launched the Duke 125 recently. But is the Duke 125 suitable for the Indian market or KTM should have worked on a Duke 150. If you are wondering what a 150cc duke could be like then here is a quick insight in this.
The duke 125 has been very successful for KTM in India and has been the best seller in the KTM lineup. But is it suitable for India of KTM should have introduced a new duke 150? Today We are going to tell you, What If KTM launched the Duke 150 in India. We will try to decode Its expected specs, feature, price and all other possible details about the bike.
KTM Duke 150 Overview, Expected Specs, Price, Mileage & Top Speed
Note: These are just expected specs and features, based on the existing duke series bikes. If KTM ever launched the Duke 150, these specs and features may vary.
Engine
149 CC Single-Cylinder, DOHC,
4-Stroke, 4-Valves
Maximum Power
19 PS at 9,000 RPM
Peak Torque
14.5-15 NM at 7,000 RPM
Top Speed
130 KMPH*
Mileage
42-45 KMPL*
Cooling Technology
Liquid Cooling
Fuel Supply
BOSCH Fuel Injection
Chassis
Trellis Frame
Front Suspension
WP USD Forks
Rear Suspension
WP Mono-Shock
Front Brake
300 MM Disc
Rear Brake
230 MM Disc
ABS
Single-Channel ABS
Expected Price
RS 1.45-1.55 Lakhs INR
Key Features Of Duke 150
Well if KTM ever launches the Duke 150 it might have these key features like the other KTM bikes.
Stylish Design
Powerful Engine
Fuel Injection System
Liquid Cooling
Single-Channel ABS
Front & Rear Disc Brakes
Radial Tyres
Fully Digital Instrument Console
LED Taillights
LED Indicators
BSOCH Engine Management System
Similar: Best 150CC Bikes In India
Quick Overview
If KTM every launched the Duke 150, it will carry the same design as the duke 125. It might not look like the bigger dukes, because then it will add up to its overall cost. It might have three colours options like the other KTM duke models.
The duke 150 might come with a 149cc single-cylinder, liquid-cooled, fuel-injected engine that should be able to produce 19 PS of maximum power and 15 Nm of peak torque. With this amount of power and torque, It should be able to achieve a top speed of 130 KMPH.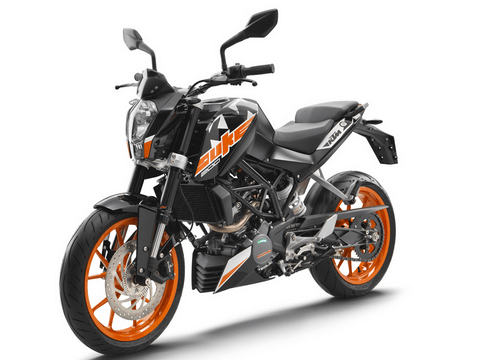 For braking duties, it may use the 300mm 4-piston calliper front disc and a 230 mm 2-piston calliper rear disc like the Duke 200. It will also have a single-channel ABS unit form BOSCH. Like all the other KTM bikes the suspension may be a WP USD front forks and a WP mono-shock at the rear.
Other feature like a fully digital instrument console will be there as all the KTM bikes have that. It will also have a LED taillight and sleek looking LED turn indicators. It will also feature a 150mm wider rear radial tyre like the other dukes.
Competitors
Yamaha MT 15
Yamaha R15 V3
Suzuki Gixxer
If this 150cc duke is launched, it will compete with the R15 V3, MT 15 and Gixxer in the Indian market. Currently, the R15V3 and MT 15 leads the sales number ion the premium 150cc segment. If the Duke 150 is launched it will give a hard time to both of these bikes from Yamaha.
Possibility Of A New Duke
As you already know there is a duke 125 in the market and KTM has not planned any upcoming bikes in this segment as of now. One of the main reason is that the smallest duke is doing really good and also it is the best selling machine from the KTM lineup. So, as of now, there is no possibility of bringing the Duke 150 in the market.
Launch & Price In India
As of now, the Duke 150 doesn't even exist or there are no plans to bring it anytime soon. The other 125cc ktm bikes are doing great in sales, So we don't see this new duke coming to the market anytime soon.
If in the future, KTM tried to work on a new 150cc bike or replace the 125 with it, and it made its way to India then it could carry a price tag of around 1.45 Lakhs to 1.50 Lakhs INR. As this would carry some premium hardware it will have a higher price tag compared to the other 150cc bikes.
Conclusion
So, as we mentioned above there is no chance of this bike to be launched anytime soon. Also, the other 125cc KTM bikes are doing really good in the market, So KTM doesn't have to think about any alternative right now.
Also, it would be hard to price this bike in India, as India is a price-sensitive market. The bottom line is that we might not see Duke 150 in the market soon. These we just expected specs and features based on the other KTM bikes.