The McLaren P1 is one of the best hypercars ever made in the 21st century. These exotic beasts are available in only limited numbers and are owned by only a few lucky people around the world. The design of this hypercar depicts substance as well as style. If you adore this beauty, here is everything you need to know, like the McLaren P1 price in India, specs, mileage, top speed, and images.
The McLaren P1 is the successor of the legendary McLaren F1, and it is made to push the boundaries further. This hypercar comes with a well-crafted design that looks futuristic and way ahead of its time. Its aerodynamic space-age design, extensive use of composite materials and monstrous V8 hybrid engine puts it in a league of its own.
McLaren P1 Price in India and Availability
This hypercar was launched in limited numbers only and sadly all of them are already sold out. There were only 375 units of P1 ever made and all of them were sold out instantly. Sadly not a single Mclaren P1 made its way to the Indian shores. However, if you are cash-rich, you can always bid for one in the second-hand market.
Read Similar: 2023 Toyota Supra Price in India, Specs, & Launch Date
McLaren P1 Price in India 2023
The base price of the final edition of the McLaren P1 was a whopping $1.15 million. The direct conversion of this price to Indian rupees would be around Rs 8.73 crores. However, if brought to India its price would be much higher due to import taxes. The Mclaren P1 price in India would be around 10-11 crores if it was imported into India.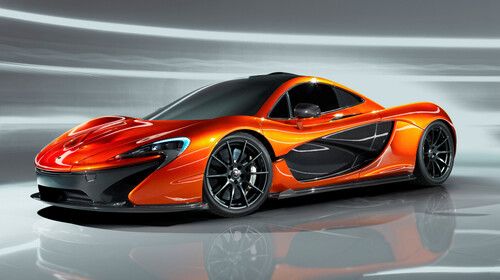 Mclaren also allowed the buyers to customize certain components as per their taste. Most of the owners of McLaren P1 buyers opted for a unique and customized design and that further adds up to the final price. This rare hypercar is no longer in production and if you dream to own one of these you will have to look for a second-hand model.
Specifications
| | |
| --- | --- |
| Engine Capacity | 3,799 cc |
| Engine Type | V8, Twin-Turbochargers, Single Electric Motor Hybrid |
| Transmission | 7-Speed Dual-Clutch |
| Maximum Power | 903 HP |
| Maximum Torque | 900 NM |
| Top Speed | 350 km/h |
| 0-100 km/h | 2.8 s |
| 0-200 km/h | 6.8 s |
| Kerb Weight | 1,490 KG |
| Brakes | Carbon Ceramic Rotor |
| Front Tyre | 245/35/19 |
| Rear Tyre | 315/30/20 |
Key Features
Aerodynamic Space Age Design
Powerful Hybrid V8 Engine
Dual-Clutch Transmission
Carbon Fibre Components
Carbon Ceramic Brakes
Instant Power Assist System
Carbon Fibre MonoCage
Race Active Chassis Control
Pirelli P Zero Corsa Tyres
TFT Screens with Four Switchable Modes
Seats Made From Carbon Fibre Shells
Read Similar: Dodge Challenger Price in India 2023, Specs, Top Speed, Images, & Review
McLaren P1 Overview
It comes with a very sleek and aerodynamic design that looks gorgeous. A lot of parts are made up of carbon fibres that help P1 shed a lot of weight. It gets a unique front facia with curved LED headlamps that give it a smiley face type look. The McLaren P1 looks lean yet very elegant due to its streamlined design. Its scissor-style doors, downforce wings, and peculiar rear end give an aggressive touch to its design.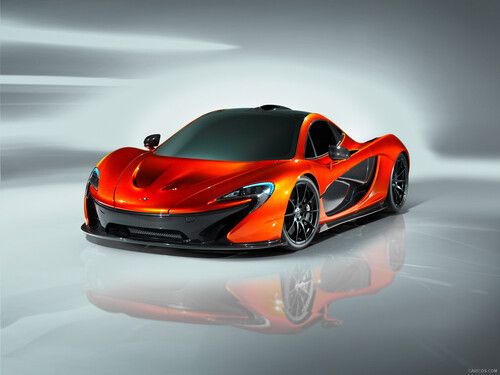 The McLaren P1 is powered by a hybrid powertrain that consists of a 3.8L V8 engine with twin turbochargers and a single electric motor. Its mid-mounted engine is derived from the 12C and it also gets an instant power assist system onboard. The hybrid powertrain of this supercar is capable of producing 903 HP of maximum power and 900 Nm of peak torque. It can accelerate from 0-100 km/h in 2.8 seconds and 0-200 km/h under 6.8 seconds. The P1 has a top speed of 350 km/h which makes it one of the fastest supercars ever made.
This supercar is based on a lightweight and rigid MonoCage frame that is made up of carbon fibre. McLaren has equipped this car with a high-performance suspension setup to match its excellent performance. The front and rear wings are capable of producing a downforce of up to 600 kg which translates to increased traction and amazing handling characteristics. To stop this powerful machine, McLaren uses carbon-ceramic brakes. It is equipped with class-leading driver aids features and electronics.
The interior of the McLaren looks like a fighter jet cockpit. Its interior looks elegant and every control and button is placed perfectly. The new McLaren P1 comes with ultra-lightweight seats made up of carbon fibre shells. The seat keeps you planted during sharp cornering and they are also comfortable for long journeys. It is equipped with three TFT screens with 4 switchable modes that display all the necessary driving information.
Competitors
The P1 was one of the most exclusive supercars during its time, but it did have a few competitors. It use to compete with the Porsche 918, Ferrari F12 Berlinetta, Lamborghini Aventador, and Lamborghini Huracan. The P1 carried an extravagant price tag that made was nowhere close to its competitors.
Conclusion On the McLaren P1
The McLaren P1 is one of the best hybrid supercars of this century. Its iconic space-age design made it stand out from the crowd of supercars. Its design boasted the perfect balance of aggressiveness and elegance. It is equipped with a powerful hybrid V8 powertrain that delivers exceptional performance. Its carbon fibre chassis, impressive aerodynamics, and insane downforce generation helped it achieve spending handling. Wrapping up, the McLaren P1 is one of those cars that prove money can buy you loads of happiness.
FAQ's
What is the power output of the McLaren P1?
It features a V8 engine with an electric motor that is capable of generating a combined power output of 903 hp.
What is the top speed of the McLaren P1?
This supercar has a top speed of 217 mph or 350 kmph.