2020 McLaren 720S Price in India, Specs, Top Speed, Key Features & Images
Mclaren is one of the best and most renowned supercar brands in the world. It was founded in the year 1985 in England and their main factory is based in surrey. Here you can find out the McLaren 720S price in India and launch date of the latest model along with specs, key features and top speed.
The 720S is a model from the McLaren super series and it gets the specially developed engine and active aerodynamic aids. It is probably the best supercar on sale today, it is insanely fast and looks gorgeous. Here we try to decode the new 2020 McLaren 720S price in India & the details about its availability.
McLaren 720S Price in India & Launch Date
There are only a few McLaren 720 that was able to make it to the Indian shores. Only three to four of these premium beauties has been brought to India by some car fanatics. There is no official information from the brand regarding the availability of the latest 2020 model in India.
Read Similar: Toyota Supra Price in India, Specs, Images & Top Speed
McLaren 720S Price in India
A supercar from any brand carries a hefty price tag and the 720S is no exception. The Mclaren 720S price in India Rs 4.3 Crores. The price of the new model could be a little higher as compared to the older model. McLaren 720S is one of the costliest supercars in the world.
McLaren 720S Specifications
Engine
4.0L, V8, Twin Electrically-Actuated,
Twin Scroll Turbochargers
Maximum Power
710 BHP at 7,500 RPM
Peak Torque
770 NM at 5,500 RPM
0-100 Kmph
2.9s
0-200 Kmph
7.8s
Top Speed
341 km/hr
Transmission
7-Speed Reverse Seamless Shift Gearbox
Suspension
Double Wishbone Adaptive Suspensions
Body Structure
Carbon Fibre Monocage
Overall Length
4,544 mm
Overall Width
2,162 mm
Dry Weight
1,419 kg
Price (Ex-Showroom)
Rs 43,000,000
Key Features
Powerful V8 Engine
Twin Scroll Turbochargers
Anti-Lock Braking System (ABS)
Traction Control System (TCS)
Electronic Stability Control (ESC)
Launch Control
Variable Drift Control
Hill Hold Assist
Twin Multi-Plate Clutches
Brake Pad Wear Sensor
Brake Assist Technology
Proactive Chassis Control
Speed Limit Function
Adaptive Damping
5 Twin Spoke Sports Cast Alloy Wheels
Locking Wheel Nuts
Carbon Ceramic Brakes
Tyre Pressure Monitoring System
Read Similar: Dodge Challenger Price in India, Specs, Top Speed
Quick Overview
The front-end of the 720S has a bug-like alien appearance. On the bonnet, It gets angular vents and LED headlamps looks very elegant. At the rear, the dual exhaust tips are integrated above the vent. The sleek rear spoiler adds the extra charm to the exotic four-wheeler. The McLaren 720S is undoubtedly one of the best looking super coupes in the world.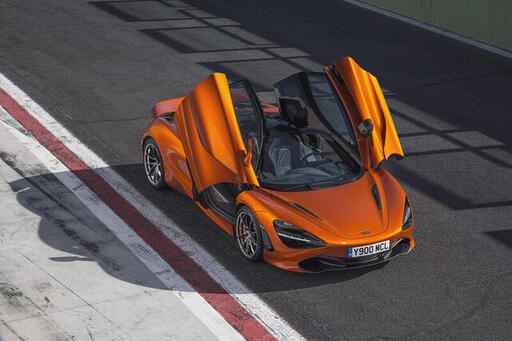 It is equipped with a 4.0 L V8 Twin electrically-actuated, twin-scroll turbocharged engine. The engine is mated to a 7-speed dual-clutch automatic gearbox. Clever turbo engineering ensures that the 720S is almost free of turbo lag. It also gets launch control that helps you control the vicious acceleration when you slam the gas pedal.
McLaren claims a top speed of 341 Km/hr for the latest 720S. It can reach from 0 to 100 Km/Hr in 2.9 seconds and from 0 to 200 Km/Hr in 7.8 seconds. According to Mclaren some of the real-world tests have shown even better times. It can cover a quarter-mile distance under 10.3 seconds.
The McLaren 720S is full loaded with best in class electronic and safety features. Electronic package includes ABS, traction control, drift control, Electronic stability control, launch control, hill hold assist, and more. It gets adaptive suspension and high-performance carbon-ceramic brakes. Also, McLaren offers a lot of customization options for the 720S.
Verdict On McLaren 720S
The Mclaren 720S looks spectacular and we can safely say that it is one of the best looking supercar on sale today. The turbocharged V8 offers an enormous amount of power and it accelerates like a rocket. It is fully equipped with driving aids and safety features that ensure you have complete control over this beast.
We hope to see the latest model of the 720S on the Indian roads soon. The 720S is arguably the best supercar of its class and we love it. Here we disclosed the Mclaren 720S price in India and a quick overview of its specifications and performance.
Follow Us On Instagram For Latest Car and Bike Infographics, News & Updates.
@mototechindia